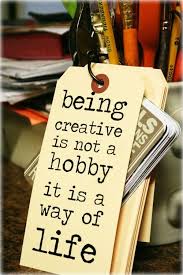 It doesn't matter to me that I am no great artist; the desire to create in form or idea is a pulse that runs deeply through me. At the heart of my experience with creativity is the idea of taking separate pieces and putting them together to create a new whole, literally and figuratively
There is a feeling of aliveness, grounding and freedom that I experience when I am in the process of creating. For me, creativity comes in many different forms and flavors. Wrapping a gift, vision boarding, doodling, cooking, brainstorming – all these things and more get my creative juices flowing.
When the wheels of creativity are turning I find myself shifting into a meditative state where I can let my mind take a break and just be in the moment – a hugely liberating experience for me!
Creativity helps me to not take myself too seriously. It allows me room to play. It gives me an outlet to express who I am. Creativity truly is a way of life!