"Adopt the pace of Nature; her secret is Patience."
– Ralph Waldo Emerson
Patience, huh? I am sure I'm not alone here in saying that patience is something I struggle with. In our fast paced world, we tend to want everything now…or more likely, yesterday.
We want to get healthy NOW. We want to lose those extra pounds NOW. We want to find that perfect job NOW. We want to meet our soul mate NOW. We want to get to where we are going NOW.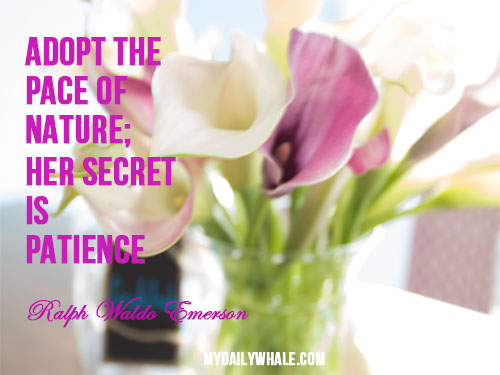 Around the same time that this Ralph Waldo Emerson quote came into my life I was having a somewhat angst ridden conversation with someone about where my life was headed. He likened my life to the seasons. He said I was in my planting season – sowing the seeds for what is to come. Unfortunately, as he so aptly put it, I wanted to be in the harvest season, seeing the results of my efforts. He cautioned me that no matter how much I may want to I can't leapfrog over this "in between" time, it is part of my evolution.
In my life there have been many instances where I have wanted to bypass the lulls, the delays, the inconveniences, the challenges, and the disappointments and instead move on to the main event. However, I am coming to recognize that it is in the "in between" times that I learn the most about myself and have the opportunity to find greater clarity about what it is that I truly want and who I truly want to be.
A wonderful acupuncturist I used to see would constantly remind me to observe nature when I was getting caught up in trying to push through and force changes in my life. In essence she was reminding me to adopt the pace of nature.
Have you ever watched those time-lapse photos of a bud flowering? Aside from the sheer beauty of observing something evolve, the time lapse shows us how many teeny, tiny, minuscule changes must occur to allow those petals to fully unfurl. For the most part we don't witness those minuscule shifts. More often than not we see only the end result, meaning that the pace at which nature moves is often taken for granted.
Without a doubt, practicing patience, and trusting that things are unfolding as they are meant to, is challenging for me. I can allow plenty of internal and external forces to wreak havoc on my self-confidence and my trust in my intuition.
At the same time, I know very clearly that when I try to force things into being I am more often than not left empty handed, unsatisfied or frustrated. This is not to say that I should sit back and wait for something to happen. But it is a reminder that there is a natural rhythm to the evolution of my life, and I get better results when I allow that rhythm to lead me rather than fighting against it.
In moments of self-doubt I feel stuck, stagnant, limited. My opportunity in those moments is to pause, breathe and reflect. When I do those things I give myself space to recognize and acknowledge that I have indeed made progress, and that I am not the same person I was a year ago, or 6 months ago or even a few weeks ago.
It can be uncomfortable for sure but everything I am doing is helping me to learn, grown, and find greater clarity. Each moment and each choice is causing a shift and a change, no matter how small, allowing the petals of my life to continue to unfurl.  My choice is that rather than force the petals to open with brute force I can let them unfurl naturally with grace and ease. Grace and ease definitely feels better 😉
4 Reminders from Nature on Change:
Take a deep breath, pause and think about what I am learning about myself, and the world around me, during the "in between" times.
Remember that no matter how small the changes may seem I am continually growing, moving forward and evolving.
Embrace the discomfort, it is a sign that I am shifting and changing.
Trust the process and trust myself.