I recently read an article called "10 Things I want my daughter to know about working out" and it made me pause and think about what exercise means to me. To check out the article click here.
The crux of the piece is that the author wants her young daughter to know that exercise is about SO much more than getting your body to look a certain way in "that" dress or "that" dreaded bikini.
For many, many years I probably exercised, and over exercised, in an effort to try to "fix" what I believed was wrong with my body.   In hindsight I had very external objectives when it came to how I treated my body and approached my exercise routine. So much of my focus was on how my body was being perceived by others rather than on what having a strong, athletic and healthy body meant to and for me.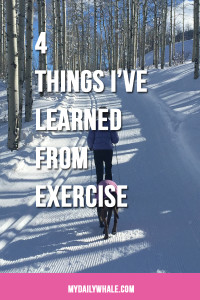 Over the last few years I have begun to make a shift in my thinking about my body and the way in which I approach exercise. Recently, I tore my ACL in a ski accident. The injury, subsequent reconstructive surgery, and recovery have definitely tested, and in many ways, reinforced this shift in thinking.
Going through the challenge of not being able to exercise in the way in which I was accustomed, having to hold myself back from just "pushing through", and really needing to listen to what my body is telling me has helped experience physical activity in a whole new way. I've had to slow down and tune in. I've had to quiet the voices and be patient with myself. And what a gift that has been.
I cannot say I am immune to how my body might be perceived by others, and the gremlins of years of a negative body image still chatter away, but without a doubt I know that much more of my focus and approach is about how I feel "in" my body, how my body functions and moves throughout my day, and what being strong, in my body, mind and spirit, means to me.
In getting out of my head and loosening up on the external and internal pressures to "workout", I have come to appreciate physical activity in healthier and deeper way. I have found that I love to test my balance on the Bosu ball. I love the freedom I feel when I move my body to booty shaking tunes. I love the cleansing sweat of a good workout. I love the deep sense of peace and focus I get when I am pushing my physical boundaries. I love knowing that a workout can shift my energy, change my mood and clear my mind. And I love knowing that when necessary I can lug my over-packed suitcase up 5 flights of stairs!
Exercise isn't about how my body looks to others or how my body fits (or doesn't fit) the latest fashions. When I strip away all that negative chatter, I am coming to understand that exercise is really about tuning in. It is about connecting with my body's innate wisdom. It's about being present and centered. It's about feeling strong, literally and figuratively. And most importantly for me, it's about feeling empowered within myself.
Shifting my mindset from using exercise as a means to try to make up for what I deemed inadequate about myself to thinking about exercise and movement as a metaphor for how I want to live my life is not only liberating but also energizing
We owe it to ourselves, and to the young girls coming up behind us, to recognize and celebrate that exercise, movement and strength brings so much more into our lives than a certain dress size.
4 Things I've Learned from Exercise:
Moving my body feels good and makes me feel alive!
It is up to me how I choose to experience my body as well as what significance I want exercise to have in my life.
What I gain from exercise goes way beyond the physical. It impacts me mentally, emotionally and spiritually.
My body is my partner not my adversary.