My Daily Whale (MDW) is my vision board, my creative outlet, my therapy couch. It's a place to capture what inspires me, work through what challenges me, laugh at what baffles me and celebrate what enlivens me. My Daily Whale is my experiment in letting me be me…and all that comes with that!
Come join me on an adventure through the twists and turns of life, the inspirations and the contemplations, the synchronicities and the magic. Let's exercise our vulnerability muscles, fuel our creativity, nourish our body, mind and spirit, and find out what moves us literally and figuratively. Let's do some living out loud!
Why "My Daily Whale"?
The name "My Daily Whale" comes from the unexpected sightings of a whale each day during a trip to Hawaii late in the 2014 season. I started to refer to these sightings as "my daily whale" – my daily dose of happy 😉
My Whale Tale
"BOOM" "BOOM" "BOOM"! A sound I'd never heard before reverberated off the ocean surface drawing me to the door to see what was going on. Out in the Pacific Ocean, not far from the coastline, was a whale's tail thumping the water over and over. My first whale, spotted on a trip to Hawaii in February 2006, is something I will never forget, and the joy of seeing those giant creatures of the deep never gets old. I love how these behemoths of the ocean move at times with such grace and at other times pound the water with abandon. I want some of that!!
Fast-forward to late Spring 2014 and a family trip to Hawaii. Grateful to be in Hawaii, I admittedly was a little bummed that we were visiting so late in the whale migration season. Few if any whales had been spotted along the Kohala Coast in the couple of weeks prior to my arrival, and I was told, repeatedly, that my chances of seeing a whale during my stay were slim.
The morning after my arrival I took myself off for a run along the coast. Believe me, I'm not a natural born runner and have a love hate relationship with running. However, since I was coming from my home in the Mile High City I figured I'd take advantage of the "altitude life" while I could.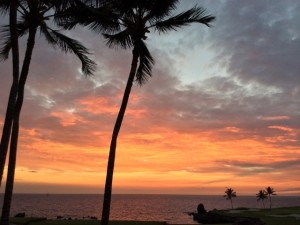 My run followed a path that hugged the coast, and just as I was making a turn down to the beach I saw something out of the corner of my eye. To my left, in that wide-open ocean was a whale spout!! I stopped dead in my tracks, my eyes trained on the water where I had seen the spout. Seconds later, the water parted and a whale breached the surface arching backwards to the water. OMG I got my whale! I got my whale!! Before I could fully take in the excitement, the water parted again and there was ANOTHER breach…ANOTHER whale! I couldn't believe it.
After being told I most likely wouldn't see a whale, I saw not one but two in the span of mere seconds on my first day! Tears welled up in my eyes (yup, I tend to get teary when I'm happy!), my cheeks ached from the huge grin plastered across my face and my heart swelled with such profound and intense gratitude.
Each day for the rest of my trip I saw a spout, a breach or both, and came to look for and expect to see what I termed "my daily whale". Life can run a million miles a minute, and the ups and downs can sometimes give us whiplash but seeing those whales that week made me pause, savor and feel such deep gratitude for this life I get to live.
For me, My Daily Whale is about celebrating, learning from, and digging deep into the twists and turns of life. It is about having fun, finding delight in the little things, exploring creativity and being open to the people and possibilities along the way. My Daily Whale reminds me to grab this life of mine and live it.
Take what resonates, leave what doesn't, just find your own "daily whale", the thing that reminds you to pause, look around and say "hell yeah" this is my life!
About Alessandra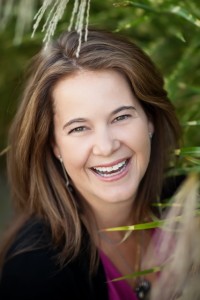 I'm Alessandra but pretty much everyone calls me Ali. I grew up in Europe until I was 14 and have lived overseas at various other times in my life. In 1998 I left the East Coast for the Rocky Mountains – a decision that changed the trajectory of my life in some pretty awesome ways.
It was in Colorado that I discovered my entrepreneurial spirit, first with Verbatim Booksellers, my independent bookstore in Vail, CO and then with Ambajam, my line of deliciously cozy baby blankets and gift items. Both of these businesses have had a profound impact on my life and have taught me a great deal about creativity, collaboration and persistence as well as knowing when it's time to move on.
Thanks to a long held interest in health and wellness, I recently a completed a course in integrative health coaching and am now a certified health coach through the Institute for Integrative Nutrition.
I thrive on connecting with others, and I have a passion for helping people, particularly women and girls, explore their full potential.
Useless Trivia About Me!
I'm a spiritual, personal growth, self-help junkie.
My brother called me "Nervous Child In New Situations" when I was a kid.
I am an extroverted introvert – whatever you want to make of that!
I'm a sucker for a good love story.
I can't carry a tune to save my life.
I'm a conflicted Virgo – part controlling queen bee part wannabe free spirit.
When I was 9, Adam Ant autographed my napkin at a restaurant. Swoon…I thought he was the coolest thing ever!
I used to say I didn't like chocolate…I lied.
I love to get my dance on.
My dogs growing up were named after cheeses – Parmi (Parmesan) and Cheddar.
I am a master procrastinator.
Guilty pleasure – bubble bath, a mindless novel and a glass of wine.